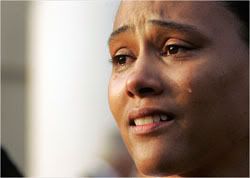 Marion Jones-Thompson confesses drug use amidst tears of shame:
"IM SO SORRY"
Three-TIME Olympic gold medalist Marion Jones-Thompson, wife of Barbados' Olympic bronze medalist Obadele Thompson, cried as she addressed the media during a news conference outside the federal courthouse yesterday(05-10-2007) in White Plains, New York.
Outside the court house Jones-Thompson broke down in tears as she apologized for her actions, saying she fully understands she has disappointed her friends, family and supporters."
"I have let my country down, and I have let myself down," she said. "…I am deeply sorry." Jone-Thompson pleaded guilty to lying to federal investigators when she denied using performance-enhancing drugs.
She also pleaded guilty to a second count of lying to investigators about here association with a cheque fraud scheme.
The 31-year old mother of two, once the most celebrated female athlete in the world now faces the prospect of being stripped of the three gold and two bronze medals she own at the 2000 Sydney Olympic Games, and a jail term.
Now Laugh My Ass off @ her. What a dumb "x—well- known" athlete she was. Now she gets all her medals stripped and will end up in jail. She have made most people shameful of her now, what she kept as a secret over those years until it was discovered now she had taken drugs to win races in 2000 Sydney Olympic Games.
Shame on her!
Source Barbados Nation News.