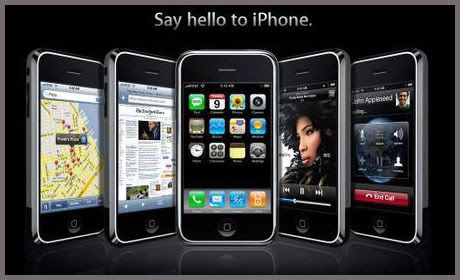 People have been waiting days, stalking Apple's newest product the iPhone, its fan websites and thousands of them have flocked around United States Apple Stores to get hold of the iPhone as soon as the store doors have been opened. In anticipation of today's release of the Apple iPhone. Click here to find an Apple Store near you.
Description
iPhone is a revolutionary mobile phone, a widescreen iPod and features the Internet in your pocket. It features a revolutionary user interface based on a multi-touch display and software that lets you control everything with your fingers
Specs
Manufacturer: Apple, Inc.
Price: US$499 or uS$599
Capacity: 4GB or 8GB flash drive
Display: 3.5 inch widescreen multi-touch featuring 480-by-320-pixel resolution at 160 dpi
Operating system: OS X
Wireless data: Wi-Fi (802.11b/g), EDGE, Bluetooth 2.0+EDR
Camera: 2.0 megapixel
Extra note:
This web site is not affiliated with Apple Corporation. All trademarks are the property of the respective trademark owners. © 2007 R.Ellis Blog. All rights reserved.