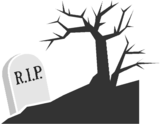 She left this world almost as quickly as she came, but little Danielle Arthur was loved.
All one had to do was to look at the faces of her parents, Barbados Prime Minister, Owen Arthur, his wife Julie and siblings Leah and Sabrina to see what this little girl will be sorely missed.
Danielle, who died last Friday ( 18th, May, 2007), was laid rest at All Saints' Anglican Church, St.Peter yesterday(23rd May.2007) after a 10 a.m. funeral service.
Everyone from Cabinet ministers, Opposition members to some members of the public came to pay their respects. May her soul Rest in Peace.